About Us
Your Electric Motor and Drive Specialists.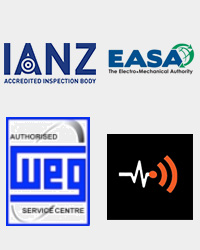 Expertise
Taranaki`s first dedicated 3800 Hazardous area workshop.
Supply
EXD and non-rated electric motors and pumps in stock
Loyalty
30+ years of dedicated service to the dairy, oil and gas, small engineering and electrical sectors that thrives in the heart of Taranaki.
Quality
Our ISO/IEC 17020:2012 certificate provides piece of mind that there are quality procedures and practices in place that are applied to all jobs small or large.
Our Promise
To Our Customers
We offer you fast turn-around, a big advantage to get you up and running faster.
We work to earn your respect by providing honest, sound advice on sales and repairs.
We ensure you always receive reliable, cost effective solutions.
Our Internal Values
We will ensure we have the skills and expertise to go the extra mile for our customers.
We are committed to constant improvement of our process and systems and expect our ISO 9001certification to be merely a base line standard we always work beyond.
We are committed to cater for a variety of business sectors being - heavy industry, light industry, agriculture and domestic.
We take pride in specializing in unique offerings such as hazardous areas compliant workshop capabilities.
History
Registered as a company in November 1980 by former owner Ken Grey, New Plymouth Rewinds quickly gathered momentum to service the dairy, engineering and developing oil and gas industry. Providing all aspects of electric motor rewinding and servicing New Plymouth Rewinds Ltd cemented itself as a leading provider.
Changes in the market, resulted in NPRL expanding their offering, by taking on the sales of major brands of electric motors and pumps including WEG, CMG, CEG, Tsurumi and FLYGT.
In 2004 NPRL was appointed as a WEG service center due to its high standards of work and commitment.
After having served an apprenticeship and being part of the team for 21 years, NPRL was bought by Richard Lister in 2011. Richard's goal and focus has been to expand the business capability even further to meet the needs of the ever growing oil and gas sector.
In March 2013 NPRL gained its accreditation of ISO9001 for Quality Management systems and in September 2013 was awarded accreditation to repair to AS/NZS 3800 to inspect, overhaul and repair electrical equipment for hazardous areas.
Richards goals are to continue to grow the business in Taranaki and to provide specialist services to industries across New Zealand - whilst still maintaining the high level of personal service and customer care that the business has always been famous for.